Get Ready to Get Pumped!!!
What is Brain Diesel?
Brain Diesel represents the two areas of expertise that you need to have a truly productive day.
You need to know how to use the Microsoft Office software that you use every day, that is, you need the "Book smarts", represented by 'Brain'.
You also need to know what and when to do the things you do every day so you can lead a fulfilling day, moving towards your personal & professional goals.
You need the "Street smarts".. the Diesel.
Where Book Smarts meet Street Smarts… That is Brain Diesel.
So, how can you get pumped?
Training is offered in a number of different formats, from public classroom style to one on one shoulder to shoulder training, or maybe you would like a custom class developed for your team, and have it held on your site.
Whether you choose a class in Microsoft Excel, Outlook, Word, or PowerPoint, you can expect top notch, knowledgeable training by a Microsoft Certified Trainer with over 14 years of management experience. You can expect each class participant to be provided a computer, mouse and keyboard for hands on training, and of course, you will want to be provided post-class support.
Let's remove the speed bumps from your day.
Sign up for a class with Brain Diesel. We know the shortcuts.
Centrally located in Moncton, NB
Brain Diesel Business Center
95 Millennium Blvd, Moncton, NB, E1E2G7
Phone: (506) 862-8722
Plenty of free "off street" parking

Excel Spreadsheet Development 90
PowerPoint Training & Design 90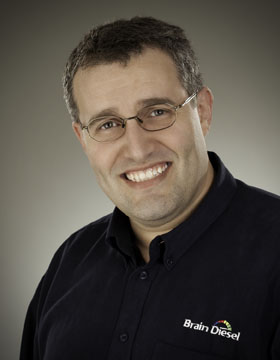 There's more and I want it.
There's more to know, to learn, to do.
I'm just a guy addicted to self development and seeing what's possible. I read books without pictures, perform with people who make things up, speak before live audiences, watch speakers who have something to say and make Microsoft do my work so I don't have to.
I love sharing the more through my company Brain Diesel where I teach Microsoft skills to professionals relentlessly pursuing a laugh and a 'Wow!'.
There's more. Want to find out how much? Let's chat.
UPDATING SOON